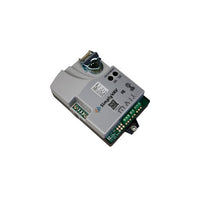 TSP-8001 KMC Slave Actuator: SimplyVAV, Tri-State with Pressure Sensor, 40in-lbs, 90 sec.
The TSP-8001 is a secondary dual duct slave actuator for SimplyVAV dual-duct installations. The actuator connects directly to a BAC-8007 SimplyVAV controller for easy installation.
Integrated airflow sensor
All programming and sequences are built into the SimplyVAV

 

BAC-8007 dual duct primary controller.
All inputs and outputs for SimplyVAV controllers are set up at the factory.
No field programming required.