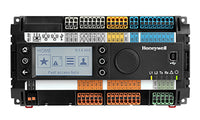 WEB-EHSERIIESNX26D Honeywell CIPer Model 50 Niagara Edge IP Application Controller
Honeywell Eagle CIPer model 50 WEB-EHSERIIESNX26D is a BACnet-compliant heating, ventilation, air conditioning (HVAC) building controller. It runs the WEBs-N4 framework, integrating all trades in a building.
CIPer model 50 is the ideal solution for HVAC controls requiring combination with lighting, shading, access control, and security applications. 
NOTE: WEBSEHN4LIC CORE LICENSES MUST BE ADDED