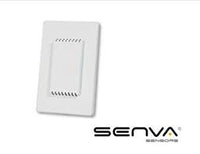 CO2-VAL, WALL CO2 TRANSMITTER
Senva CO2 sensors maximize energy savings by ensuring optimal ventilation. Measuring exhaled CO2 levels ensures air is conditioned only when needed. The CO2-VAL is a flush mount design sensor with NDIR sensing element and auto-calibration mode.
Features

▪ Fits in any standard j-box or low voltage bracket.
▪ No exposed screws; unobtrusive tamper resistant design
▪ Popular colors to match any decor
▪ Non-dispersive infrared sensing element (NDIR)
▪ Field replaceable CO2 sensor
▪ 15+ year life expectancy on CO2 sensing element
▪ 
Auto-calibration mode returns sensor to baseline values
▪ ±40ppm, ±3% of reading