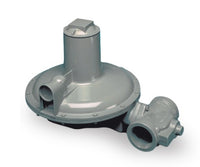 B42R.75, 3/4 in. Gas Reg 1/4" orifice 6-16" w.c spring
The B42 is a spring loaded self-operated regulator with internal relief option. The B42 features a molded diaphragm, 6:1 lever ratio and one inch vent. The benefi t is a lighter more compact unit that provides the power, capacity and relief performance of larger regulators.
The B42R is the internal relief (R) version of the B42 Series. The large 1" internal relief valve provides exceptional relief capacity.
Features
▪ Interchangeable aluminum orifice
▪ 12.6 sq. in. of diaphragm area » Molded deep convolution diaphragm with o-ring seal » Plated steel 6:1 lever
▪ One piece molded Buna-N valve seat
▪ Delrin® vent valve with Buna-N seat
▪ Spring-loaded internal relief valve assembly
▪ 1" and ¾ " threaded vent with stainless steel screen
▪ Fiberglass reinforced polyethylene seal cap with integral relief valve stop
▪ Field interchangeable adjustment spring