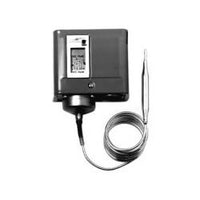 A70HA-2C, Temperature Control, Open Low, Close Low, 35F to 80F, Manual Reset
The A70 single-pole and A72 two-pole controls are supplied in a wide selection of ranges to meet most application needs. See "Temperature Ranges." in the product data sheet. 
Models may be supplied to open a circuit on temperature increase or close a circuit on temperature increase as required. An A70 single-pole control may optionally include a separate reverse-acting auxiliary contact. Models are available with a SPDT enclosed Penn switch
Typical applications include shutdown of a ventilation system and BAS alarm indication upon low or high temperature.
Features
▪ Long life contact structure with high contact force right up to break -- no bounce on make
▪ Make reset models are "trip-free".
▪ Ranges available to cover most applications.
▪ Auxiliary contact can be used to actuate an alarm circuit when the main contact opens.
▪ Two-pole construction provides a number of application advantages (see "General Description" in the product data sheet).
▪ Heavy gauge "low profile" stainless steel element cup to protect against mechanical damage
▪ Permits control of two separate load circuits.
▪ Automatic control of heavy electrical loads.