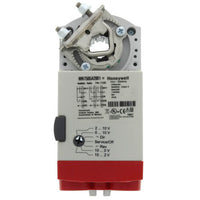 MN7505A2001, Mod.Floating, 2-Pos. Actuator - 44 lb-in
MN7505 Non-Spring Return Direct Coupled Actuators (DCA) are used within heating, ventilating, and airconditioning (HVAC) systems. They can drive a variety of quarter-turn, final control elements.
Applications include:
▪ Volume control dampers, mounted directly to the drive shaft or remotely (with the use of accessory hardware).
▪ Quarter-turn rotary valves, such as ball or butterfly valves mounted directly to the drive shaft
▪ Linear stroke globe or cage valves mounted with linkages to provide linear actuation.
Features
▪  Access cover to facilitate connectivity
▪  Declutch for manual adjustment.
▪  Mechanical end limits.
▪ Field-installable auxiliary switches.
▪  Rotation direction selectable by switch.
▪ Mountable in any orientation.
▪  UL listed.