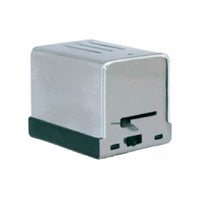 AG23A020 Erie Zone Valve Head, Normally Open, 24V, 2Way
The series handles chilled water, hot water, and 15 psig (103 kPa) steam applications. Each PopTop zone valve features a removable actuator to aid in both installation and service.
Application: PopTop Series valve bodies and actuators provide easy installation for a variety of heating and cooling applications. Valve's actuator can be installed after valve body has been installed onto fan coil, baseboard or air handler. VS Series valves are available for low pressure steam applications.
Features
• Direct replacement for all existing two-position PopTop applications
• Hysteresis synchronous motor for long life
• Spring return operation provides a fail-safe
• Valve body rated for 300 psi static pressure
• Available in a variety of voltages
• Actuator mounts directly onto valve body without need for linkages or calibration
• Manual override lever (normally closed only)
• Actuator can be replaced without any tools, or removal of valve from system
• VS Series available for low pressure steam